At Metal Heat Treatment Solution, we strive to reduce the latter processes by suppressing distortions at heat treatment stage, but there are other causes of distortion than heat treatment, such as machining and welding. So, we also accept orders for only correcting distortions.
It should be noted that we cannot compensate for the breakage of materials. So, to prevent breakage, please consult with us from the stage of materials selection.
Correcting distortion case 1
I want to reduce the distortion on stainless steel rectangular pieces to less than 0.3 mm.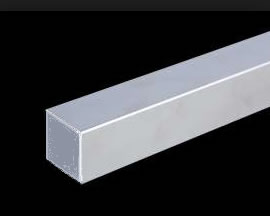 Material: SUS304 Size: 40 x 80 x 300 mm
Quantity: 5 pieces
After machining pieces and taking clamps off, the customer found a distortion of 0.5 mm. Because the pieces were already machined, we decided to use heat as a medium so as not to leave any scratch. By using the flat side of the pieces for the heat treatment, we could reduce the distortion to 0.1 mm.

Correcting distortion case 2
I want to reduce the distortion on a welding plate to less than 0.2 mm.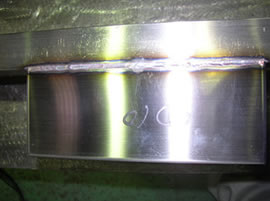 Material: SUS304 Size: 200 x 800 x 45t
Quantity: 2 pieces
The pieces were bent 0.6 mm at welding spots.
If the pieces had hardness in their entirety, using a press machine for straightening could break the pieces. But in this case, the material was soft, so we used a 5 ton press and jigs to correct the distortion to less than 0.05 mm.

Correcting distortion case 3
I want to reduce the bend to less than 1.0 mm.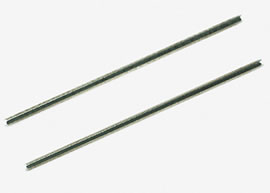 Material: SUS304 Size: Ф89/Ф81 x 2,500 mm
Quantity: 100 pieces/lot
These shafts were bent 13.0 mm in their entire length. To correct them, we designed special jigs for the customer to make. As a result, we reduced the bend to 0.2 mm. In this case, we had to have the jigs made but we own various jigs to handle almost any situation. Please contact us for more details.

Correcting distortion case 4
I want to reduce the distortion on grinding ball screws to less then 0.2 mm.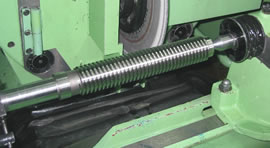 Material: AIASI 4150 Size: Ф25 x 1,500 mm
Quantity: 1 to 10 pieces
The product was already threaded, but they had a run out of 6.5 mm.
Because the pieces were hardened only on their surface, we could use a 5 ton press to reduce the run out to 0.1 mm.

Correcting distortion case 5
I want to correct the distortion of aluminum plates caused by processing.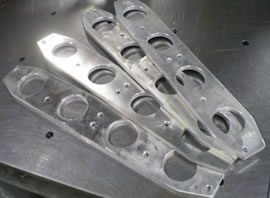 In general, correcting a machining distortion on an aluminum product is considered difficult due to its softness. In our company, however, we can correct the distortion without a scratch by using heat as a medium. Please consult with us.

Correcting equipment owned
| | |
| --- | --- |
| Roll straightening machine: 4 units | These machines can straighten round bars of Ф3 to 25 in diameter and 1,000 mm to 3,000 mm in length. We accept distortion correcting orders. |
| Various pressing machines: 13 units | We use the most suitable press and expert techniques for a given condition to correct distortions. (50t x 2 units, 25t x 1 unit, 20t x 1 unit, 10t x 1 unit, 5t x 2 units, hand press 6 units) |
| Burner: 3 units | The use of the burner also requires skill. Please leave it to us. |
In addition, we have various holding jigs.


For details of equipment specifications, please refer to the
"Equipment" section in "Heat Treatment technology of the Solution"
page.
Heat treatment method
We own various equipment including vacuum heat treatment, salt bath heat treatment, carburizing heat treatment, induction hardening, nitriding heat treatment, etc.
We also own various testing instruments, such as sub-zero equipment, various hardness testers, metallographic examination equipment and coercive force meters.